UM Celebrates 100 Years of Business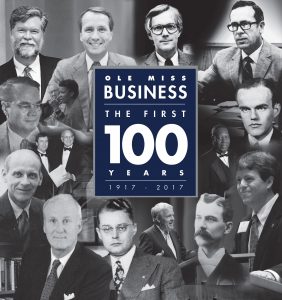 By Nathan Towery and Stella Connell
The University of Mississippi School of Business Administration kicked off its centennial celebration Sept. 8 with an early fall reception for faculty, staff and alumni in the courtyard of Holman Hall.
Chancellor Jeffrey Vitter led his remarks by recalling the state of the university in 1917, the year the business school was established. That year, the university had an incoming class of 150 students, the population of Mississippi was 1.8 million, John D. Rockefeller became the world's first billionaire, and only 8 percent of homes had a telephone.
This fall, the school has more than 3,800 students, 63 faculty members and 18 staff, making it the largest business school in Mississippi. It offers 11 majors, a top 10 insurance program and a new Center for Innovation and Entrepreneurship.
"I challenge the School of Business to imagine a future in which we increase entrepreneurship and connections to businesses and other external entities to support research programs, academic programs and creative initiatives," Vitter said. "Our school of business is well poised to increase the reach and potential of the university's creative outputs and garner additional resources to propel us to even great(er) heights of excellence."
The business school's Master of Business Administration program, started in 1941, is ranked among the nation's best, at No. 36 among the nation's public universities by Bloomberg Businessweek News Service, and the online program came in at No. 22 in U.S. News & World Report's 2017 ranking.
The school offers several other graduate and professional degrees in business administration. A Ph.D. student in business administration can focus on finance, marketing, management or management information systems.
Over the past five years, the Ph.D. program has placed 100 percent of its graduates. The faculty has played a major role in placing graduates in academic, government and private positions. Recent graduates have obtained academic positions at the University of Alabama in Huntsville, California State University in Fullerton, Kansas State University, University of South Alabama, University of Southern Illinois in Carbondale, Tennessee Tech University, Utah State University and West Virginia University.
In honor of the centennial, the UM Foundation has created the 1917 Order, a fundraising effort to recruit faculty, provide scholarships and increase class offerings, among many other initiatives. Membership begins with a gift of $25,000 or greater, with pledges scheduled over five years.
"This effort will allow us to continue to grow in national rankings, recruit top students and faculty, and reach for new heights of excellence for the school," said Tim Noss, development officer for the school.
The school has relaunched BusinessFirst, the school's magazine, which is distributed to alumni and friends by mail. The magazine features alumnus Maj. Gen. Leon Collins on the cover and includes stories on programs, students, faculty and alumni.
A final centennial event is set for 5 p.m. Nov. 10 at Off Square Books on the Oxford Square, where a celebration and book signing will take place for Ole Miss Business: The First 100 Years, a 160-page illustrated history of the school forthcoming from Nautilus Press.
A number of alumni, featured in the book, will be at Off Square Books to sign their individual pages, and the school's communication officers, Stella Connell and Chad Hathcock, will screen a video commemorating "100 Years of Ole Miss Business."
"Thousands of lives have been changed, thousands of opportunities created and thousands of people making a difference," said Ken Cyree, dean of the School of Business Administration. "I look forward to the next 100 years and know we are poised to do great things with the dedication and commitment of this group of people in the business school."