GradSHARKS: A Guiding Acronym
by Jordan Orris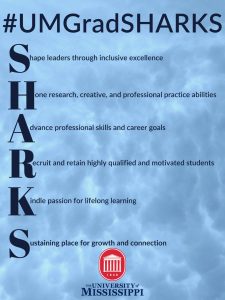 GradSHARKS is a new Graduate School mantra as we embrace change under the new Dean, Dr. Annette Kluck. It's an acronym that guides us forward as we move into a new decade. It is an exciting time to be at the University of Mississippi, a Carnegie R1 designated, top-tier research institution.
Dr. Kluck shared some of her ideas behind creating the GradSHARKS acronym: "I noticed that Graduate Schools at some peer institutions have clear statements about their values and goals. It seemed fitting that we would make clear our priorities and objectives within the Graduate School in a way that is memorable and clear. Playing on the Landshark mascot in a way that made it special for graduate students who hold a unique position within the institution was also important. The process started with the acronym and our values, with a focus on how they logically flow together, and identification of clear actions that are part of implementing these values (and which fit within the acronym)."
GradSHARKS stands for:
Shape leaders through inclusive excellence
Hone research, creative, and professional practice abilities
Advance professional skills and career goals
Recruit and retain highly qualified and motivated students
Kindle passion for lifelong learning
Sustaining place for growth and connection
Dr. Kluck continues, "I started with inclusive excellence because inclusion, equity, and diversity represent key values of the Graduate School and the Graduate School has a long history of operating from the perspective that excellence can only be accomplished with inclusion—that diverse individuals who are truly included create the richest experiences and best outcomes for all. The remaining aspects are important goals, processes, and products of an excellent graduate education and we seek to prepare our graduates to be inspired leaders within their chosen fields."
Dr. Robert Doerksen, Associate Dean of the Graduate School shared, "the ideas encompassed in the concept of 'GradSHARKS' represent great grounds to guide us as we work with graduate students from recruitment and registration, through skill refinement, toward eventual realization of their career dreams. Day by day, as we assess needs, adopt new approaches, and actualize exciting programs, we can delight in the accomplishments of our students, dedicate ourselves to enhancing opportunities for them, and deepen our commitment to excellence in graduate education."
"GradSHARKS is a fun way of communicating what we are about here at the University of Mississippi Graduate School. And, it helps connect us all to the university as a play on the mascot. For me, GradSHARKS serves as a guiding light for our work within the Graduate School as we collaborate with faculty and other campus partners to create a graduate learning experience that meets the professional and personal needs of our students," said Dr. Kluck.