Miss University Matriculates
by Jordan Orris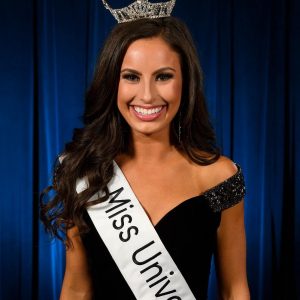 The current Miss University, Blair Wortsmith, is continuing her education as a graduate student. Miss University is a scholarship program and an official preliminary to Miss Mississippi within the Miss America Organization. Blair placed in the Top 5 as Fourth-runner-up to Miss Mississippi 2019. In this interview, Blair shares with us some of her experiences as Miss University and how the scholarship program has benefitted her.
Graduate School: What program did you graduate from and what graduate program are you attending?
Blair Wortsmith: "I graduated with a BBA in Managerial Finance in May, and I am now pursuing an MA in Higher Education/Student Personnel and working as the Graduate Assistant for Student Activities."
Graduate School: I understand you completed your undergraduate honors thesis about the Miss America Organization. Tell us more!
Blair Wortsmith: "I had the amazing opportunity to dig deep and learn more about pageantry by conducting research and writing my Honors Thesis on 'There She Evolves: The Financial, Marketing and Journalistic Sustainability of the Miss America Organization'. I learned so much about where this program has come from and where it is headed, and I am eager to continue following the changes to the program as it approaches its 100th anniversary."
Graduate School: Did your Miss University scholarship help pay for graduate school?
Blair Wortsmith: "From Miss University in the fall and Miss Mississippi this summer, I earned nearly $9,000 in scholarships that has helped cover expenses for both my undergraduate and graduate education."
Graduate School: What is one of your most treasured memories as Miss University?
Blair Wortsmith: "There are so many that I have to name a few! Receiving an official Miss University jersey at the Egg Bowl was a blast. Promoting my platform, SAVE: Investing in Financial Literacy, with students of all ages throughout the year brought some of my favorite and most impactful memories. Being called into the Top 5 at Miss Mississippi while representing the University was a dream come true! It was a busy year full of so many special moments interacting with incredible people on campus and in the LOU community."
Graduate School: Can graduate students enter Miss University?
Blair Wortsmith: "Yes, graduate students are eligible to compete in Miss University and welcome to participate!"
Graduate School: Why should we admire or support the Miss America Organization?
Blair Wortsmith: "The Miss America Organization provides women with the opportunity to promote a social cause that they are passionate about, an outlet to develop strong speaking skills, increased levels of civic mindedness, an awareness of issues facing young people today and a platform to be a role model. Women in this program are a catalyst for change across the nation, and I am honored to be a part of it!"