Black Girl Magic in Mississippi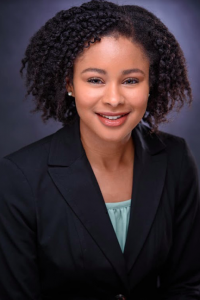 "My professors always made me feel like a valuable member of the classroom and always wanted to hear what I had to say — even though it wasn't very much." 
With dark curly hair and a quiet demeanor, Margaree Jackson describes herself as a fairly reserved individual. A native of Brandon, Mississippi, Jackson graduated with a bachelor's degree in Spanish and Political Science from the University of Mississippi in fall 2019. A year after graduating, Jackson made the decision to return to the University of Mississippi to pursue a master's degree. Her positive experience as an undergraduate—as well as the offer of a full-time graduate assistantship—made continuing her education at the university she loves so much an easy decision.
Jackson credits the faculty and staff in the Department of Modern Languages for sparking her desire to pursue a secondary degree. It was not just the content in her classes that made her fall in love with the program, it was her professors and their love of other cultures, as well as their willingness to listen and learn from their students that really inspired her. The lessons learned in the classroom—and out—along with the fiery desire to make her home state an even better place for everyone, led her back to central Mississippi.
About 20 minutes west of her hometown of Brandon is the state capital of Mississippi—Jackson. Known for being the focal point of life here in Mississippi and the "crossroads of the South," the city of Jackson is also home to The Lighthouse | Black Girl Projects, a nonprofit focused on the whole development of Black girls and young women here in Mississippi and across the southeastern United States.
"I care deeply about the Black and Latinx communities. I believe a lot of times people look at certain communities and don't see the community's value. But when Black and Brown girls and boys are taught their worth and value and that they have a voice and it matters—this makes all the difference."
This fall, after completing an internship with The Lighthouse | Black Girl Projects and being awarded the Dr. Joyce Ladner fellowship, Jackson took on the role of research analyst for the organization. This new research role has allowed her to explore an entirely different space—and tap into a newly discovered passion—that she had not necessarily considered. Most of Jackson's work is on The Mason Project—named for C. Nicole Mason, a nationally known political scientist, author and thought leader. The aim of this specific project is to offer more data-driven resources in an effort to influence young Black girls to go out and be changemakers in their communities. And now, in the midst of the COVID-19 pandemic, Jackson has taken the lead on a research initiative further examining the racial disparities of COVID-19 and the impact it has had on Black girls and women here in the South.
But do not let her self-described quiet demeanor fool you. Jackson has big plans for the future and is already planning on pursuing a PhD in community psychology so she can further conduct research at a more localized level to help others find and leverage their skills so they can have a positive impact on their community. She is also a firm believer that what is taught in the classroom makes a big impact on a community overall. Before starting her PhD, Jackson wants to take a page from her professors' books and spend a few years teaching as either a bilingual, English or secondary language instructor—hoping to ignite a flame in her future students as her professors did for her in her undergraduate program and now in her graduate program.
Regardless, I think it is fair to argue that Jackson, in fact, has a lot to say. She might not be the loudest in the room vocally, but as the old adage says, actions speak louder than words.
To learn more about The Lighthouse | Black Girl Projects, a Jackson-area nonprofit that focuses on being a revolutionary and unwavering light for Black girls and young women in the southeastern United States, you can visit their website at loveblackgirls.org.