Colleagues' Well Wishes for Dr. Wyandt
by Jordan Orris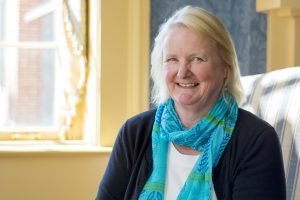 Former Interim Dean of the Graduate School, Dr. Christy Wyandt, is now focusing on other duties as assigned by the Provost, after three years of service in the interim position and a total of 16 years of service as Associate Dean or Interim Dean of the Graduate School. She dutifully fulfilled the role with the utmost of professionalism and class. It is only fitting that her colleagues help to give her a well-deserved tribute to her time as Interim Dean.
"Dr. Wyandt is the Queen of Interims. Regardless if her interim leadership role was nearly permanent, the heart of her leadership was always connecting with others." –  Dr. Linda Keena, Interim Department Chair, Department of Legal Studies
"Dr. Wyandt has always kept the graduate students central to her mission and worked hard to create diverse and inclusive Graduate School programs. She helped me countless times as a Department Chair brainstorming creative ways of providing graduate student support—financial and otherwise—to students pursuing their degrees. She has helped to support graduate faculty as well—highlighting excellent graduate mentoring at the University through her dedicated work as the Chair of the University Award for Excellence in Graduate Teaching & Mentoring committee. It's been an honor to learn from her." Dr. Kirsten Dellinger, Associate Dean for Diversity and Inclusion, College of Liberal Arts
"I have really appreciated how Dr. Wyandt has been so great at listening to what is going on in our departments and has been willing to work so hard to find flexible and creative solutions for a broad array of students." – Dr. Marc Lerner, Associate Professor of History & Graduate Program Coordinator, Arch Dalrymple III Department of History
"Dr. Wyandt has always had a calm approach to requests for guidance from our students, faculty and administrators in Applied Sciences and has been very engaged in helping our graduate students succeed with finding resources whenever possible. Her knowledge of graduate policies and processes has been most admirable and immensely helpful to all of us."- Dr. Teresa Carithers, Associate Dean, School of Applied Sciences
"I had the good fortune of working with Dr. Christy Wyandt in the Graduate School. For a number of years I tried to hold down the positions of Graduate Dean and Associate Provost at the same time, and, truth be told, Dr. Wyandt really handled the lion's share of the graduate deaning. In addition to working with Dr. Wyandt in the Graduate School, she has always been a trusted friend and confidant. We would spend hours brainstorming and sharing ideas. The Graduate School was in good hands with Dr. Wyandt and great strides were made under her leadership." – Dr. Maurice Eftink, Associate Provost Emeritus
"Dr. Wyandt always emphasized to me how important it is to care for and stand up for the graduate students, when we consider all the different people involved in graduate education. Her passion and many great accomplishments in our Graduate School have particularly focused on making the students' path smooth. Dr. Wyandt has demonstrated for me how to be effective and caring in mentoring of the Graduate School staff, as a day-to-day and year-in, year-out focus that has helped to make the Graduate School fit in well to University of Mississippi's theme of 'a great place to work'." – Dr. Robert Doerksen, Associate Dean of the Graduate School
We are certainly grateful for Dr. Wyandt's faithful service to our Graduate School, and wish her the very best in all future endeavors. We are fortunate to have had her leadership.