MFA in Documentary Expression Student Makes "Cornbread"
by Jordan Orris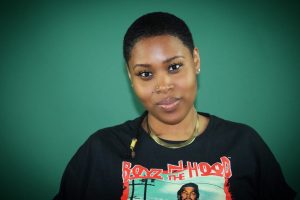 Zaire Love is a documentary filmmaker who is preparing to release an intriguing film. After presenting about her thesis film at the Three Minute Thesis® (3MT) competition at University of Mississippi, we knew we had to learn more about what inspires this compelling individual.
Love shares: "The documentary film is entitled, The Black Men I Know. It follows an uncle and nephew whose hood in Memphis introduced and inducted them into lives of violence, incarceration, and hustle. It artfully opens the floor to these black men to tell their stories while also giving room for their loved-one to tell hers. This documentary reckons with grief, black male masculinity, systemic racism and classism, and the survival mode black folks have had to plug into to thrive and stay alive in this hood called America."
She continues, "I was inspired to tell this story because I wanted to hear from the black men that I knew back home and the ones I've met on my journey. After the rapper Nipsey Hussle was assassinated in LA in March of 2019, my spirit was urged to tell the story of the hood heroes that I love and admire that often don't get their flowers until they are laid in a casket."
Love's mission, as she describes it is "to honor and amplify the stories and voices of the Black South." She says that "the black South has always had meaningful "'cornbread' to share", and defines cornbread on her personal website as "knowledge, facts, and authentic art that raises the consciousness of those who partake."
Love is from Memphis, Tennessee, and is a graduate of Spelman College and Houston Baptist University. She graduated Summa Cum Laude from both institutions.
Love is presently an artist in residence at Crosstown Arts in Memphis, TN, where she is dedicating most of her time to filming and editing The Black Men I Know, her thesis film and project. She graduates from the University of Mississippi Center for the Study of Southern Culture on May 9, 2020, with a Master of Fine Arts degree in Documentary Expression.
The COVID-19 virus and subsequent social distancing, has unfortunately, hampered her original plans for premiering The Black Men I Know. The Graduate School will release information on its social media pages about the dates of the Memphis and Oxford premieres when those events are scheduled.
To read more about Zaire Love from her own website and see clips of her previous documentary work, visit www.zairelove.com. More information about her Crosstown Arts residency is available here:  https://crosstownarts.org/residency/resident-artists/zaire-love/.