CETL Recognizes Two Graduate Students
by Jordan Orris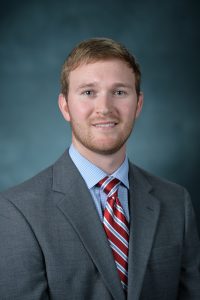 The Center for Excellence in Teaching and Learning annually recognizes teaching excellence, awarding the top Graduate Instructor Assistant with the title at the Doctoral Hooding Ceremony.
This year's Graduate Instructor Excellence in Teaching Award Recipient is Joshua Simer, an Instructor of Accounting and Doctoral Candidate at the Patterson School of Accountancy.
His nominating professor, Dr. Christine Cheng shared:
"I nominated Josh because I heard consistent praise from Josh's former ACCY 405 students. ACCY 405 is a difficult class for instructors to get great reviews because it deals intricately with a challenging area that most people are not fond of, Individual Income Taxes. There were three common themes from the students' feedback, that made me believe that Josh was a good candidate for this prestigious award. Specifically, students emphasized that Josh was able to reverse their disinterest in this difficult area. Second, they emphasized that he had a clear passion for teaching, dedicating time to ensure student learning. Finally, they spoke at length about his innovation, electronically recording himself working assigned problems, so that they could gain a better understanding of the material. The combination of these three themes resulted in having students passionate about learning more in federal tax, which in turn, results in these future graduates and professionals becoming dedicated to envisioning a better federal tax system, from a business, individual, and policy making standpoint."
She continues, "I think that the recognition that comes from winning such a prestigious award proves that Josh is an exemplar, offering approaches to teaching that can help new and seasoned educators as they strive to meet excellence in their own topical areas. In addition, the recognition should help him as he embarks on his new endeavors of being a faculty member at the University of Central Arkansas."
Joshua himself shared, "I am honored to receive this year's Graduate Instructor Excellence in Teaching Award.  Being chosen to represent a group of talented graduate instructors across campus is humbling, and I'm very proud to be the first graduate instructor to represent the Patterson School of Accountancy with this award.  I am grateful for the opportunities I have had to learn and grow as a teacher at the University of Mississippi.  The students I have had the privilege to influence here have consistently pursued excellence in learning, and I am constantly motivated to match that pursuit in my classroom.  I praise God for His constant provision and I am excited about His plan for my career.  I look forward to continuing this journey as I transition into my new role in August 2019 as an Assistant Professor of Accounting in the College of Business at the University of Central Arkansas."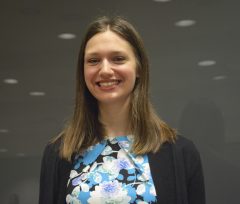 The Center for Excellence in Teaching and Learning also recognizes outstanding teaching among Graduate Teaching Assistants and annually awards the Graduate Teaching Assistant Excellence in Teaching Award. The 2019 recipient is Jennifer Toth. Dr. Toth is a first year student in the Ph.D. in Pharmaceutical Sciences with Emphasis in Pharmacy Administration program. However, she is pursuing a second doctorate, after earning her Pharm.D. last year.
"It is truly an honor to be nominated and selected for this award, especially since there are so many dedicated teaching assistants at this university. My goal in teaching is to help students become life-long learners, as we don't stop learning after we have graduated. Learning is a life-long process; only, we are our own teachers after we are done with school. I think explaining to students the relevance of what they're learning helps them to engage more with the material. I also try to incorporate active learning exercises, which are very important to help students apply concepts and learn by doing instead of by lecture. I believe these can help motivate students to take a self-directed learning approach in and out of the classroom. I am a first-year graduate student. So I have some time before I graduate, but as of right now, I plan on pursuing a career in academia."
Dr. Toth was nominated by Dr. Meagen Rosenthal, Assistant Professor in the Department of Pharmacy Administration, for her work as Teaching Assistant for the course series PHCY 441 and 442, entitled "The Pharmacist Patient Care Process." Dr. Rosenthal shares: "I believe that the award from the Center for Excellence in Teaching Award is a recognition of the efforts put forward by the nominee to not only excel in the preparation and delivery of their content, but also putting forward the effort to develop a meaningful relationship with the students in the class. I nominated Dr. Toth for this honor to recognize her efforts in not only preparing her material for this class, but also jumping in with both feet into the class, holding review sessions, meeting with students, and helping out in every way needed to make our semester a success. This was the first year that the School of Pharmacy offered this class and without Dr. Toth it would not have been nearly as successful as it turned out."
We are proud of these outstanding award recipients and are grateful for their service to the University community.