Welcoming Dr. Kluck as the New Dean of the Graduate School
by Jordan Orris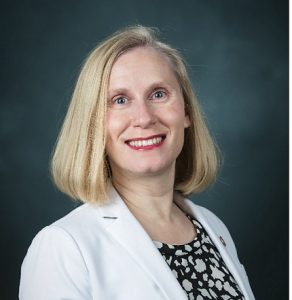 Dr. Annette Kluck was recently named the new Dean of the Graduate School and has been settling in to her new post. I sat down with her to ask a few interview questions and learn more about her and her goals for the Graduate School.
Jordan Orris / Graduate School: "So what attracted you to the position here at the University of Mississippi?"
Dr. Kluck: "A number of things attracted me to this position. First, the University of Mississippi has a reputation as a strong research institution and a strong teaching institution. Also, I have enjoyed living in the south [her most recent position was at Auburn University in Alabama]. I grew up in a college town, so this feels like home. Additionally, I went into academia wanting to work with graduate students. I enjoyed mentoring them one-on-one and developing graduate programming.
"I also appreciate being a member of the higher level administration, where my efforts can have a broader impact."
Jordan Orris / Graduate School: "What kind of changes would you like to see as Dean?"
Dr. Kluck: "The Graduate School is in a position to grow and expand. We have to figure out where we should expand. Which programs have the capacity to expand? Part of expanding will be increasing enrollment and recruitment efforts. Part of it is thinking about retention, as nationally there's a huge graduate student dropout rate. If we look at undergraduates, Student Affairs has done a phenomenal job providing great wraparound services of support, and I see the Graduate School being part of the group of organizations that address the same needs for graduate students.
"In terms of recruiting, we want to continue to build on efforts to recruit students from underrepresented backgrounds because they enrich the classroom in many ways, and we have a responsibility to serve the state. That means both having a campus that reflects the diversity of our state residents and producing graduates who positively contribute to the state through their work.
"Increasing graduate student engagement in research is another priority, whether that is developing policy or programming.
"The University has a strong commitment to graduate education and strategic growth. My position means that I am able to spend my time focusing on graduate education at the University of Mississippi, working to advance our institution and support students."
Jordan Orris / Graduate School: "What is your favorite part about Oxford so far?"
Dr. Kluck: "I can get anywhere in just a couple of minutes (short of graduation when there's bad traffic)!" I also love looking at homes and the architecture. It is cool to see old buildings repurposed for our modern needs. Campus is beautiful, especially because there are new flowers all the time."
Jordan Orris / Graduate School: "What other things would you want current students and alumni to know about you?"
Dr. Kluck: "I'm interested in meeting with as many people as I can, to learn about what's working well here at the University of Mississippi, how we want to change, and how we want to grow and progress. Our alumni are always welcome to come back, as our current students benefit from hearing from our alums. We are happy to help alumni connect with students if that's something they want to do.
"Current students: if there are types of programming you want, we'd love to hear from you. Our goal is to help ensure that the University of Mississippi is a place where students feel they belong. We want students to feel even more confident about their choice to attend the University of Mississippi on the day they graduate than on their first day on campus."
We are certainly excited to welcome Dr. Kluck to the Graduate School and are eager to have her help continue leading us upward as a graduate community.