Dear Students, Friends and Colleagues,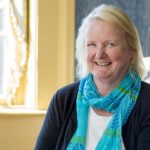 Welcome to the Winter 2019 edition of the Graduate School Newsletter!  Spring Semester classes are beginning and we welcome the renewed energy on campus  as students return from the long winter break.
In this newsletter you can read stories about some of our impressive graduate students, a vibrant interdisciplinary graduate minor and alumna Senator Jeanne Shaheen.
We hope you enjoy the newsletter and appreciate your interest in and support of the Graduate School at the University of Mississippi.

Christy M. Wyandt, Ph.D.
Interim Dean of the Graduate School
Professor of Pharmaceutics