Phi Kappa Phi Initiates Newest Class
by Jordan Orris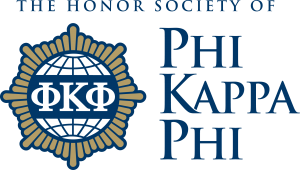 The University initiated its largest Phi Kappa Phi class yet. Nearly 340 initiates joined the honors society on October 14 at a ceremony at the Ford Center. Phi Kappa Phi is the nation's first honor society, the largest, and is widely recognized as the most selective. It was founded in 1897 at the University of Maine. The name Phi Kappa Phi stands for the Greek words which form its motto – "let the love of learning rule humanity." Its mission is "to recognize and promote academic excellence in all fields of higher education and to engage the community of scholars in service to others." Phi Kappa Phi has chapters at more than 325 colleges and universities in the U.S. and the Philippines. The society joined the University of Mississippi campus in 1959, now serving the University for almost 60 years.
The UM chapter initiates new members from the medical campus each fall, and holds both a fall and a spring ceremony in Oxford. Membership is based on a student's "sound character" and academic standing. One qualification for initiation of graduate students is a top 10 percent ranking among classmates.
According to Dr. Tony Ammeter, Phi Kappa Phi Chapter President and Associate Provost, Dean of General Studies, and Director of Outreach and Continuing Studies, Phi Kappa Phi is "not limited to certain majors or programs. In fact, Phi Kappa Phi is the only national honor society that recognizes academic excellence in all disciplines. Additionally, Phi Kappa Phi recognizes academic excellence at the undergraduate, graduate, and professional degree program levels."
Presidents, senators, Supreme Court Justices, governors, Pulitzer Prize winners, even astronauts count themselves as members of Phi Kappa Phi. Notable inductees from UM include former senator Thad Cochran and bestselling author John Grisham.
Kennedy Cuevas, recent initiate and second year master's candidate within the Department of Legal Studies shares, "I joined Phi Kappa Phi upon receiving a nomination, and I graciously accepted it. It was truly an honor to represent my small department. Being the only initiate from my cohort, I felt as though my nomination was especially important and special. Knowing that my advisors felt I would be a quality representative for my department based on Merit and Character shows that I am exactly where I belong."
"I received the invitation to join Phi Kappa Phi and was thrilled because as an online student who works full-time and goes to school part time, I have worked really hard to maintain a 4.0 GPA and was excited to be recognized for this accomplishment. As an online student, I do not have many opportunities to visit the Ole Miss campus and participate in campus life, so I was really excited to have the opportunity to attend the Phi Kappa Phi initiation," Danielle Kloap, new member and second year student in the online Master of Arts in Higher Education program said.
Erin Parker, new inductee and Master of Arts in Teaching candidate in the School of Education reflects, "The initiation ceremony gave me a moment to take a deep breath and feel the pride of the amount of work I have dedicated to my studies and passion. As an educator, the motto of Phi Kappa Phi 'Let the love of learning rule humanity' inspires me to continue my own studies and spread that love to the students I work with each day."
Phi Kappa Phi does not only provide honors, but also scholarships and fellowships, making available nearly $1 million each year to outstanding students and members. Elizabeth Wicks, a UM alumna and current UM Medical Center student received a $5,000 scholarship as a 2017 Walter and Adelheid Hohenstein Fellow through Phi Kappa Phi.