U.S. Senator, Governor, Recalls Memories at UM
by Jordan Orris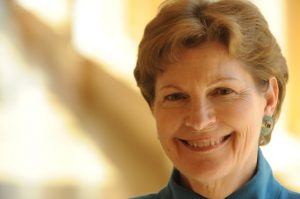 The first woman elected Governor of New Hampshire and the first woman in U.S. history to be elected both a Governor and a United States Senator, Jeanne Shaheen has led the way for women in public service. Shaheen is committed to serving New Hampshire residents and is known for her common-sense leadership, hard work and dedication to improving the lives of the middle class. She has served in the United States Senate since 2009 and is a member of the Senate Committees on Armed Services, Foreign Relations, Appropriations, and Small Business and Entrepreneurship.
Jeanne Shaheen was born in Saint Charles, Missouri. Shaheen received a bachelor's degree from Shippensburg University in Pennsylvania and a master's degree in Political Science from the University of Mississippi. She and her husband, Bill, live in Madbury, New Hampshire and have three daughters, Stefany, Stacey and Molly, and seven grandchildren.
When asked how earning her master's degree in Political Science from the University of Mississippi shaped her political trajectory, Senator Shaheen replied, "I earned my master's degree at a very precarious time for our nation: it was before the fall of the Soviet Union, during the opening of China under the Nixon administration, and while the Cold War was still a part of our international relations. Studying political science during this point in history provided me with an important foundation for how to view the United States' role in the world. I've thought about this often, especially as a member of the Armed Services Committee and the Foreign Relations Committee, of which I'm the only woman. I was a student of politics at a critical time for American engagement in our world order."
She continued, "I've also thought back to various advisors I had and classes I took…one professor I had wrote that he believed George Washington to be the greatest American. He argued that Washington was the greatest American because he refused to be king at a time when it was offered to him, and that Washington put our nation on a course to create and protect our democracy when our nation was at its most vulnerable stage. That decision contributed to the democratic ideals we hold sacred today: separation of powers, checks and balances, and so forth."
The Senator recalls her time at UM fondly, saying, "I have a lot of wonderful memories from Ole Miss – some of the most exciting would, of course, include the football games. However, one of my favorite memories has to be seeing The Temptations live!"
In closing, Senator Shaheen said, "Ole Miss provided me with an affordable graduate education, and that's something that shouldn't be overlooked or taken for granted. Affordable higher education is a critical issue today as we see tuitions continue to rise and academic opportunities feel out of reach for too many students. I'm grateful to Ole Miss for the knowledge and skills I learned from my teachers and classmates, and what I'm sure generations of students have also experienced at Ole Miss. This – access to higher education – is so important when we look to the future of our country and our workforce."
We thank Senator Shaheen for her service to our country, and continue to regard her as an accomplished alumna of the University of Mississippi Graduate School.