The University of Mississippi Graduate School is pleased that you have decided to apply to one of our graduate programs. We offer over 150 different master's, specialist and doctoral programs. Please see the information below to assist you in completing the graduate admissions process at the University of Mississippi.
Programs and Deadlines

Please check the application deadline for the program that you have selected to ensure that your application and supporting documentation will be in house prior to the deadlines. Test scores must be received prior to the deadline as well in order to be considered for admission.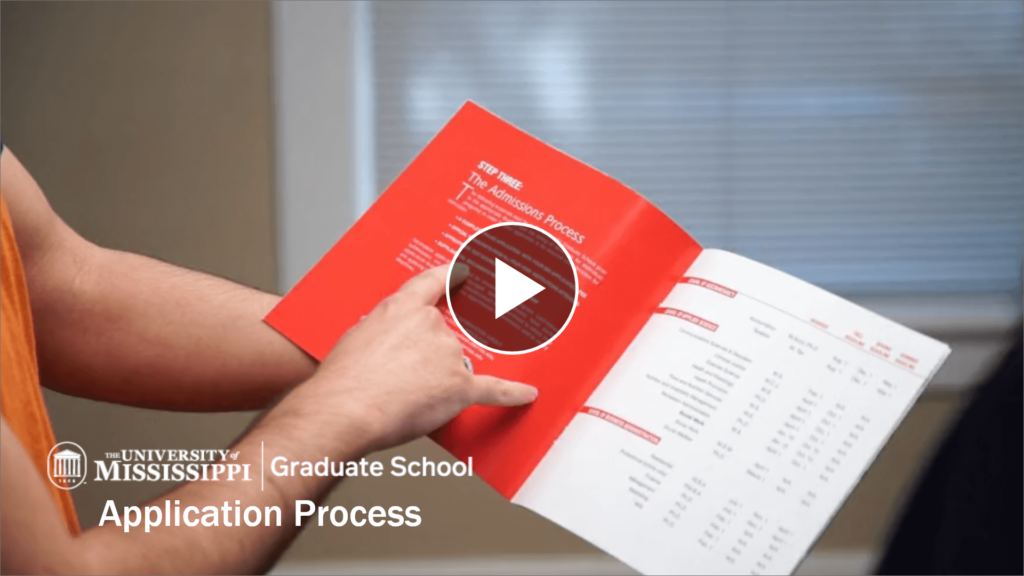 Submit the required supporting documents. Check our Items to Send page to see which items are needed, optional, or not needed for each program. Examples are:

Official university transcripts
GRE scores – (GMAT for accountancy and MBA programs)
TOEFL/IELTS scores – international students only**

*All test scores must be sent directly from the testing service. The institution code for the University of Mississippi on the GRE and TOEFL is 1840.

Check with the program's department about any extra application materials that may be required.
Once all of the steps have been completed and the $50 nonrefundable application fee has been received, your application will be sent for department review. You may track your application status. You will need your application number and date of birth.
The GradShark Launch PAAD program offers undergraduate students the opportunity to earn credits towards a graduate degree while completing their undergraduate degree. For more information and a list of participating programs, please visit Gradshark Launch PAAD.
The Graduate School Catalog provides an overview of the Graduate School as well as information about its Graduate Faculty, and Graduate Student Council. Information on admissions, academics, fees and expenses, assistantships and fellowships, programs, minors, and courses can also be found in it.
Check here for answers to the most common questions that we receive. If, after reading this, you still have questions – drop us an email at gschool@olemiss.edu.
**Language proficiency assessment for international scholars
To satisfy the English proficiency requirement, the Graduate School accepts a wide variety of English tests, including TOEFL and IELTS, and is currently also accepting the Duolingo English Test (DET) on a case-by-case basis for applicants who have been impacted by test center closures. Please see https://international.olemiss.edu/english-proficiency-requirements-11-2019/ for additional details about language proficiency requirements and exemptions.
Holistic Application Review
The University of Mississippi Graduate School encourages programs to review applications holistically and to take seriously the challenges that applicants have faced.
The Council of Graduate Schools (CGS), with ~500 member colleges and universities—including The University of Mississippi—recommends "holistic review as a good admissions practice that benefits programs, institutions, and students under any circumstances".