The UM Graduate School Ambassadors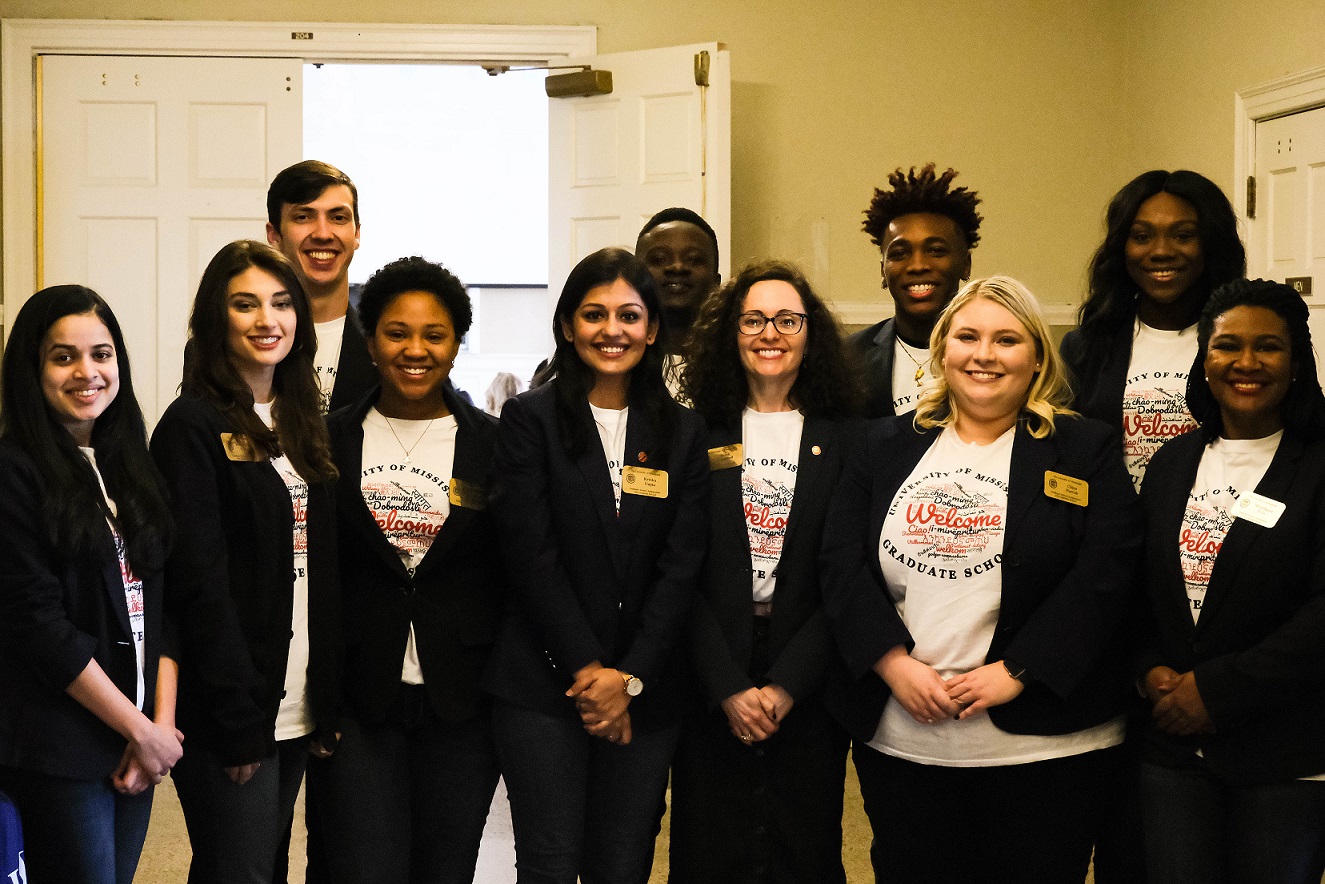 The University of Mississippi Graduate School Ambassador Program is composed of current graduate students from various disciplines who have successfully applied and interviewed for one of these prestigious positions.   Ambassadors represent the graduate school at on-campus events, as well as some off-campus events.
Meet our UM Graduate School Ambassadors
"Graduate Ambassadors are voices of hope and courage because we are curators of the future, nurturing relationships and opportunities for scholars and their desire for scholarship at the University of Mississippi."

Sarah Campbell

Ph.D. in Secondary English Education

Former Ambassador

"My favorite aspect of my University of Mississippi experience is my department. The faculty truly care about my success in the classroom and in the clinic."

Brooke Anna Canada

M.S. in Communication Sciences and Disorders

"What I've loved most about my UM graduate experience is all the amazing students and faculty that I have met and friendships I've made during my time at the university."

Shimikqua Ellis

Ph.D. in English Education

"As a University of Mississippi Graduate Ambassador, I am not only able to inspire and guide the prospective students, but I get to learn a lot from my fellow ambassadors. "

Kritika Gupta

Ph.D. in Nutrition

"Being in music, I'm often only on one end of campus, interacting with only my music peers. Getting to know my fellow ambassadors who are not in my department and truly knowing the layout of the campus is exciting and rewarding."

Tyler Hawk

Master's in Music

"Choosing a graduate school is by far one of the most important decisions a student will make before starting a career.  I chose UM as I love the opportunities that our graduate school offers, the intentional recruitment to make the University of Mississippi a home, and the direct approach to getting students to their next level in life."

Cellas Hayes

Ph.D. in Pharmaceutical Sciences

"I applied to this program in order to assure both national and international students that The University of Mississippi is a great place for them to do their graduate studies."

Msafiri Otonya

M.A. in Modern Languages

Former Ambassador
(Graduated Spring 2020)

 "I truly believe that the University of Mississippi is an amazing place for students to further their academic career and learn from professors who truly care about their future and well-being."

Chloe Parrish

M.S. in Integrated Marketing Communication

"A very positive aspect of my graduate experience is that I am always learning, not only from the professors, but also from other students who are here from different countries and backgrounds."

Gauri Shadambikar

Ph.D. in Pharmaceutics and Drug Delivery

"I wanted to help prospective students get the best and most accurate information about attending graduate school and to show how great the University of Mississippi is as a second home to all students from around the world."

Elaheh Shakeri

M.S. in Chemical Engineering

Former Ambassador
(Graduated Spring 2020)

"To me, it was very important to become an ambassador because I know how impactful and valuable representation can be when making such a monumental decision like choosing where to attend graduate school."

Jasmine Williams

M.S. in Integrated Marketing Communication

Former Ambassador
(Graduated Spring 2020)

"My University of Mississippi graduate experience has been more than I could have ever imagined. It has given me the opportunity to delve deeper into research.  I have co-authored research papers with my professors, published papers of my own, and presented at several conferences."

Shunderla Wilson

Master's in Curriculum & Instruction with an emphasis in Secondary Science
Interested in becoming an ambassador?  Applications are announced yearly via email to current graduate students.