Outstanding Class Marshals Lead Doctoral Candidates
by Jordan Orris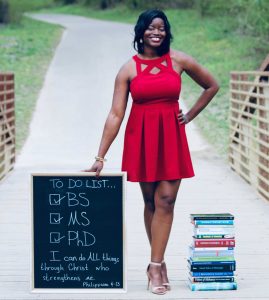 Class Marshals are honorary positions conferred on two of the Graduate School's exemplary doctoral candidates. The Class Marshals lead their fellow doctoral candidates in the procession at the Hooding Ceremony, and play a role in the morning Commencement ceremony in the Grove.  At the Hooding Ceremony, the Class Marshals give a brief speech. The Graduate School selects the Class Marshals from those students nominated by their departments. As Associate Dean of the Graduate School, Dr. Robert Doerksen, states, "We had a very competitive, broad, and deep pool of 13 nominees for this honorary position and could only select two to be the class marshals."
Zanethia Barnett
Zanethia Barnett is a Natural Resource Specialist for the USDA Forest Service (USFS). In this position, she assists USFS scientists in research on life histories, community dynamics, and ecological functions of aquatic organisms. While working with the USFS team, she quickly realized her love for research and aquatic ecology. This love pushed her to pursue a Ph.D., so that she could become a lead scientist conducting studies to preserve and conserve some of our most essential habitats and organisms. She studied crayfish, members of the superfamilies Astacoidea and Parastacoidea, that are essential to aquatic ecosystems, about which there is little ecological knowledge. Knowing this pushed Ms. Barnett to conduct her dissertation research on crayfish taxa. Her dissertation study assessed the "Effects of Impoundments on the Community Assemblage and Gene Flow of Stream Crayfishes." She was recently featured in a USFS Women in Science article, linked HERE. LINK:(https://srs.fs.usda.gov/women-in-science/zanethia-barnett/)
Originally from Estill, South Carolina, Ms. Barnett received her Bachelor of Science in Agricultural Economics from North Carolina Agricultural & Technical State University, and a Master of Science in Interdisciplinary Ecology from the University of Florida.
Ms. Barnett was nominated to be a Class Marshal by Dr. Colin R. Jackson, Professor, Associate Chair, and Graduate Program Coordinator in the Department of Biology, who shares, "Despite working a full time job, Zanethia will earn her Ph.D. in five years. She has published four papers since joining our program and given numerous talks at professional and scientific meetings. However, Zanethia's biggest impact on the broader University of Mississippi community has been her outreach work, advocating for her scientific interests and women in STEM… Zanethia has been an outstanding example of how a student from an underrepresented group can succeed in a field of science that's largely dominated by traditional groups… I would nominate Zanethia for Class Marshall based on her academic and professional achievements alone. Coupled with the example that she has set for women and minorities, and her enthusiasm in embracing being such a role model I can't think of anyone more deserving."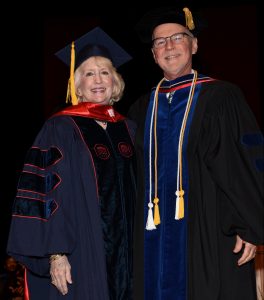 Martha Monroe
Martha Monroe received a Bachelor of Music Education degree from the University of Mississippi in 1972, and was honored with the "Pianist of the Year" Award in the Department of Music. While at UM, Ms. Monroe was a member of "The Group," which was a recruiting musical ensemble who traveled throughout the South to perform at Alumni meetings. In 1975, she received the Carnegie-Mellon Doctoral Fellowship to begin her doctoral studies, and she completed 47 hours toward the degree.
Ms. Monroe shares, "My lifelong goal was always to complete this terminal degree. After moving to the Gulf Coast where I lived for twenty years, I later returned to my hometown, New Albany. In August 2016, I met with Dr. Alan Spurgeon to inquire about the possibility of finishing what I had begun so many years ago. The degree I began in 1975 was a Doctor of Arts degree which is no longer offered. Now the Doctor of Philosophy degree in Music Education, a research degree, is the current doctorate offered by the University's Department of Music. This was a challenge because I was planning on giving a lecture-recital in piano with the D.A. degree and now would be writing a dissertation for the Ph.D."
"Upon acceptance into the Ph.D. program, I completed the course work and dissertation at 68 years of age. Consequently, my message to students can only be to never give up on your life goals. More importantly, if you are in education or research, you must be a life-long learner. I have been an educator throughout my career, having taught kindergarten through college-level students. I have been an adjunct faculty member at the University of Southern Mississippi, William Carey University, Blue Mountain College, Itawamba Community College, and Northeast Mississippi Community College. In retirement, the desire to complete my doctorate continued to remain extremely important to me and I encourage anyone contemplating going back to graduate school that it is never too late!"