Fulbright Scholar Makes History
 by Jordan Orris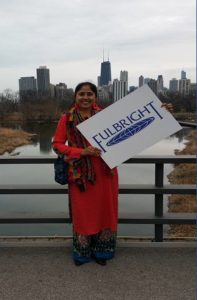 Abidah Parveen has taken a unique path to the University of Mississippi, that wound through Pakistan, Nigeria, Saudi Arabia, back to Pakistan, and then finally to Oxford. A Fulbright Scholar in the PhD Pharmacognosy program, she has a bright future ahead of her. Upon graduation, she will be the first Pakistani to achieve a Ph.D. degree in Pharmacognosy from the United States. Here, she shares in her own words:
 "I was born in the city of Dera Ismail Khan, a province of then NWFP (North West Frontier Province), now renamed as the KPK (Khyber Pakhtunkhwa) in Pakistan. I was only a few days old when my family traveled to Nigeria. My father was an electrical engineer and he secured a job there. I spent my childhood in Nigeria, but my parents decided to leave Nigeria and settle back in Pakistan. I was 7 years old. I did high school (10th grade form Saint Helen's High School, D. I. Khan). We then left Pakistan to join my father who was now working in Saudi Arabia. I did my intermediate form at the Pakistan Embassy School in Jeddah, Saudi Arabia. We returned back to Pakistan, once again, and I got my Bachelor of Pharmacy and later, my Master of Philosophy degree from Gomal University, D. I. Khan. While I was doing my masters, I was appointed as Lecturer at the Faculty of Pharmacy, Gomal University. I moved from Gomal University to the position of Assistant Professor at Abbottabad University of Science and Technology (AUST) at Havelian, Abbottabad District. I applied for the Fulbright PhD scholarship and secured it in 2014 and came to the University of Mississippi. I was dismayed at the research experience at home and I vowed to get a PhD degree from a developed country. I am a self-made person and coming to the US, a foreign country, was a huge step for me. Fulbright made it possible and achievable."
 The United States Educational Foundation in Pakistan (USEFP), one of 51 "Fulbright Commissions" located throughout the world, was established in 1950 by the governments of Pakistan and the United States. USEFP offers a variety of educational exchange programs, including a prestigious and competitive program of the United States Department of State – the Fulbright Program. The Fulbright Program in Pakistan is, at present, one of the largest Fulbright Programs in the world.  Funded by the United States Agency for International Development (USAID), the Fulbright grants cover tuition, required textbooks, airfare, living stipend, and health insurance. Scholars must sign a bond with the Higher Education Commission mandating their return to Pakistan immediately after their program in the U.S. They must work in Pakistan for the number of years equivalent to the length of their scholarship program. As long as the recipient fulfills that service requirement, they will pay nothing for their PhD.
 Abidah shares, "When I return back to Pakistan, I foresee a pioneering role, in order to introduce, develop, and strengthen research in Pharmacognosy in Pakistan and promote interdisciplinary collaboration. We lag behind in research as the pharmacy institutions are mostly involved in academic enterprises rather than research oriented scholarly endeavors."
 The application process takes more than a year and is highly competitive. Abidah recalls, "I applied like any other ordinary candidate. I took tests like the GRE and TOEFL (Test of English as a Foreign Language) and applied, and made it to the interview. After the interview, I received the letter that I had been selected. The USEFP guides the successful candidates and assists them with obtaining a visa, and we receive orientation before coming to the US and in the US about the country."
Abidah stated, "The PhD has been challenging, due to different reasons, but the cultural interaction for me has been great. My acquaintance with some wonderful ladies at Oxford made it possible for me to interact with the American people, whom I always found to be warm, wonderful, welcoming and generous. We have celebrated various occasions like Thanksgiving, Christmas, and Halloween together. Now slowly progressing towards the end of my program, having completed the PhD will be a great relief, but I will miss the nice people in Oxford."