Newsletter Winter 2022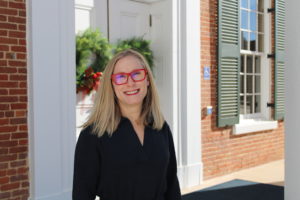 Season's Greetings to the Alumni, Students, Colleagues, and Friends of the Graduate School!
It is difficult to believe that we have reached the end of 2022. The year is one that brought many changes to the Graduate School. With great excitement, we share some of those changes in our Fall/Winter 2022 issue of the newsletter. First, however, I begin by sharing news that you may have come to expect.
You will have the chance to read about our winners and other outstanding performances from the University of Mississippi's 2022 Three Minute Thesis (3MT®) competition this fall. We were fortunate to have four accomplished professionals from the Oxford area serve as our judges. I am pleased to introduce you to the individuals who helped select this year's winners.
Dr. Germain McConnell, a former Assistant Dean and a three-time graduate of the University with a doctorate in K-12 Educational Leadership, recently returned to Oxford as the Chief of Staff on the Oxford School District's Superintendent's Cabinet after leading the Mississippi School for Mathematics and Science for several years.
Mr. Neil White, of Oxford, is known for his literary work and publishing. In particular, his memoir, In the Sanctuary of Outcasts, was a New York Times bestseller and garnered critical acclaim. In addition to running a small publishing company, White writes plays and essays and teaches memoir writing.
Dr. Erwin Dawkins, originally from Sardis, attended the University for his bachelor's degree. After graduating from dental school, Dawkins returned to Oxford and purchased a local practice, now known as the Dawkins Family Dental Clinic. The clinic offers preventive dental care and treatments for members of the community.
Ms. Angela Moore Atkins, originally from North Carolina, earned her master of Arts in Southern Studies at the University. In addition to publications in major outlets such as ESPN, Atkins has taught journalism courses and now serves as the Associate Director of Annual Giving and Digital Giving Officer for University Development on campus.
The judges had a difficult task because we had a phenomenal group of finalists. We are grateful for their time and discernment in helping us select our overall winner. In the new year, be on the lookout for details about how you can join us in sending our winner to the 3MT® regional competition.
Next, several stories introduce you to other exceptional students in the Graduate School. In this issue, you will read about a student whose artistic work debuted in Las Vegas. You will also learn about our graduate student-athletes who excel on and off the field/court. We provide an overview of the SEC Emerging Scholars program and introduce this year's scholars. You will also find stories about our four newest Southern Regional Education Board Doctoral and Dissertation Scholars and the 2022 recipient of our Advancing STEM scholarship (give to the Advancing STEM scholarship fund at to https://umfoundation.givingfuel.com/nowandever?selectFund=Graduate%20School%20Support%20Fund; select the "Advancing STEM Scholarship").
Finally, learn about some of those changes in the Graduate House I mentioned earlier. Meet our new Assistant Dean of Professional Development and Communication, Dr. Sandra Spiroff, and our graduate assistants who help ensure the Graduate School runs smoothly while they complete their own degree requirements. Finally, the Graduate School is working to increase support for postdoctoral fellows on the campus and we invite you to learn more about this endeavor, led by Dr. Spiroff this fall, to uplift and advance these individuals who are essential to the research mission at the University.
Before I conclude, I will share one additional exciting change from this past year. Although not a story in this issue, one key accomplishment was the implementation of raises to the minimum stipends for graduate assistants across campus. Several years have passed since the last increase in the minimum stipend, and the commitment from the Chancellor and Provost to our graduate students ensured that this was a priority for the current academic year. We are grateful for their investment in and valuing of our graduate students. In addition, our Vice Chancellor for Administration and Finance, Steven Holley, and members of his staff provided essential support to bring the increase across our campus to fruition. We look forward to building on this momentum as we continue to elevate graduate education at The University of Mississippi in 2023.
As we close, I invite you to connect with us (via email at gschool@olemiss.edu or via our Grad Notes form) or to stop by and visit the Graduate House. We wish you a blessed holiday season with all the things that make this time of year special.
Happy holidays and best wishes for 2023!
Annette S. Kluck, Ph.D.
Dean of the Graduate School
Professor of Leadership and Counselor Education
2022 Winter Newsletter